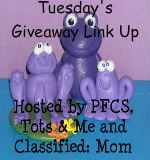 Welcome to the

NEW

and improved and very exciting
Tuesday's Giveaway Link Up
Classified: Mom
"I have a Bachelor's in Art Education; a Master's in Computer Education; and a PH.Nothing in Parenting. I have taught children from preschool to 12th grade and beyond in both art and computer education. (OK, so the "beyond" beyond part is really adults, but who's keeping score here?) Trust me, when I say that 'I am a "Jack of all trades" and master of absolutely nothing'- I literally mean it.

At the moment, I have 4 children; a 5 year old, a 2 year old, an 11 month old, and a 31 year old. They have opened my eyes to what living truly is and are my inspiration. I really enjoy writing each and every blog post; for it has brought me closer to my children and allows them to learn through creation and exploration.
Classified: Mom

is a place where you can find art and crafts for moms and kids, tutorials on technology for women, Top Ten Tuesdays where you will obtain a list of something that's on my mind (yikes!), Website Spotlights, my views on parenting during Mom Moment Mondays, and occasional reviews and/or giveaways. I like a little variety and
my goal is to have a little something for everyone! "
This link up will be posted Monday at 8 PM Central Standard Time (CST) run all week, so be sure to stop in as often as you can to list your latest giveaways. The giveaway link up will be posted on Monday nights so be sure to follow Purple Froggie Clay Stuff, Tots and Me and Classified: Mom via email so you can keep up on all of the link-up-ed-ness.
Here is how to use the Giveaway Link Up
1. Post your giveaways, as many as you have, be sure to add the end date
2. Now you can post reviews and anything you would like (family friendly please)
3. Spread the word about the giveaway link up by Tweeting or posting on Facebook.
If you would like to follow the three hostesses, we will gladly follow you back, please be sure to leave us a message.
Thank you for linking up with Purple Froggie Clay Stuff, Tots and Me and Classified: Mom.