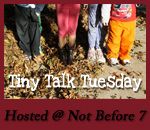 I'm a little late posting this week because I had to go shopping and had no computer time. However, here are the cute things that were said this week by my girls.
Tabitha got up from the table this morning to go to the bathroom. She stood in the doorway, arms spread wide, and said, "Okay, everybody. Stay out. Iiiiiii'm going to the bathroom."
I had Steven bring the bird cage up from the basement and it is sitting in the living room. The girls were playing with it and Tabitha asked daddy what birds eat. Daddy told her they eat worms and birdseed. Here is Tabitha's response:
"They don't eat worms. I like worms. That's why we keep them in a cage."
Then, the same day, out of no where, Tabitha says, "When bees sting me, I'm going to yell at them."
Occasionally Tabitha will have a bad dream. For some reason she has been having dreams about fire lately. the other day she said, "The fire dream is still stuck in my head."
I told her I was sorry. She said, "The dreams get out better if I make my heart pound." She proceeds to jump around. "There my heart's pounding." (They watched a Sesame Street exercise DVD last week and learned about their heart rate going up when they exercise.)
Head on over to Not Before 7 to see some other great comments.