Time for some fun blog hopping. Here are the Tuesday Blog Hops I have found. Won't you join us and make some new friends.
Later today I will be posting Tiny Talk Tuesday. Hope you can stop in for a look.
I also host Words of Wisdom Wednesday and Breakfast for Dinner Thursday. There is an ongoing series of
Hopping Along to Easter blog hops
which will continue through Easter Sunday. (All of these buttons are on my sidebar if you would like to check them out.) On Wednesday I will be posting my Wordless Wednesday photos. And the weekend will bring our school time wrap up.
Looking forward to visiting some new blogs.

And for some fun: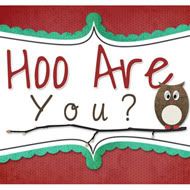 Questions will be up at Night Owl Crafting and I will post my answers here ASAP. Head on over to join the fun!