In addition to our
Ii lessons and Art Lessons
this week we began talking about the meaning behind Easter, or as we prefer to call it, Resurrection Sunday.
I wanted to make a Resurrection Lapbook. I found some great ideas over at
Lapbook Lessons
. This lapbook is a work in progress, but I will share as we go. This week the girls colored a mini book which I found at
BibleStoryPrintables.com
, the link to which I did get from Lapbook Lessons.
At the same site I found a picture of Jesus on the donkey with some palm branches for the girls to color and cut out (well, Tabitha was able to cut out her own, not Amelia).
We have been using the Resurrection Eggs to tell the Bible Story for a while now. This year I couldn't find our Resurrection Eggs, which really stinks because I was planning on putting the objects in our Sensory tub for the girls to find and match to pictures on a game board of some sort. Fortunately the girls are happy digging in the rice with the empty eggs I grabbed at the store. They are always asking to do the "rice activity." I have found that a good time to let them use it is after dinner while I am doing dishes and can supervise them in the kitchen (all the while keeping Hannah away from it).
I have decided to make my own Resurrection Eggs using the pictures the girls tape onto our cross last year while we reviewed the Bible Story.
Just can't use them in the sensory tub. We are using the eggs in conjunction with the book Benjamin's Box by Melody Carlson
This story is a fictionalized account of the Easter story. It is told as seen through the eyes of a little boy named Benjamin who is filling his box with treasures, objects that he finds that help him remember about Jesus. I haven't read the entire book yet. We are reading a little each night and the next night we review the egg/object from the previous nights and the girls explain how they relate to the Resurrection Story.
I am linking to: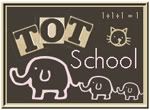 Share It Friday
"/>
Also linking to: