Are you a homeschooler looking for a change or just something extra to add to your day?
Or, are you contemplating homeschooling, but don't know where in the world to start?
I have been given the opportunity to review this site as a member of the Schoolhouse Review Crew. I have to say, it has been a wonderful, yet overwhelming experience.
If I think it is so wonderful you may be wondering why I call it overwhelming.
The fact is, there is just so much there!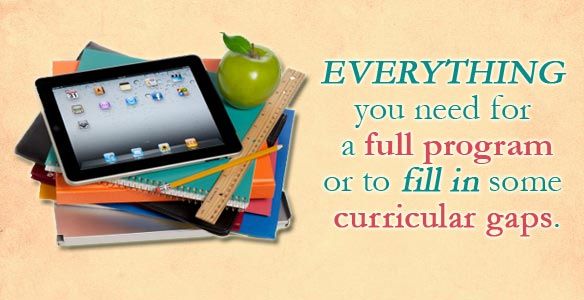 "How," you may ask, "can
one
website have "EVERYTHING" needed for homeschooling my child(ren)?"
They have lessons available from PreK through High School.
I was amazed at the variety of subjects offered for all of the grade levels.
Obviously I am most interested in the preK/elementary section.
Here are the classes offered: Asia People and History, Classical History, College Choice Guidance, Elementary Literature Kits, Elementary Math, Figures in History, French, Geography, Guitar, History, Lapbooking, Literature, Reading Lessons, Science, Spanish and Writing. In addition, they offer a Course Checklist so you can keep track of what you have done.
The Middle School section offers all of the above and more!
How would your child like to take a class in Guitar, Filmmaking, or Media Socialization?
All of these, plus more, are offered.
And moving on to high school, you will find approximately the same subjects.
As my girls are still quite young I found they weren't quite ready for the lessons in some of the subjects. We did get started with a lapbook for Christmas in the Barn and I am looking at some of the earlier math lessons to see if Tabitha will be able to use them, I wasn't sure what else I would be able to use with the girls. Then I discovered the Dailies Section. I have to say, I was hooked!
There have been a few subjects that have kept us busy these last two weeks.
The first subject we tried out was the Spelling.
I knew when I started our curriculum in August that I was going to need something more for Tabitha as she is already reading. I have been wanting to do some spelling with her, but wasn't quite sure how to implement it. I chose to use the Lower Elementary Spelling list with Tabitha (which actually has 3 lists to choose from) and the Pre-K/K list for Amelia. As we are starting a few months into the school year I was thrilled to discover that I could go back and grab the lessons from October.
I had Tabitha use 2 of the lists provided for that week as there are only 5 words in each list. There are several different activities to do with each list, but only a small amount of time is needed each day.
On Day 1 she needed to read the words, spell them out loud, read them again and write them.
On Day 2 she needed to do the same thing and then read a paragraph which contained the words. She was to underline them.
(I did copy this into my Word program so I could make the font a bit bigger for her)
Day 3 brought a word search.
On Day 4 she was to unscramble misspelled words.
On Day 5 she was to find rhyming words.
I was also pleased to find out that not every week is identical. For instance the next week will have her filling in the best word in the sentence, writing a paragraph using the words, and playing a game where we print out letters, cut them out, hide them and have her find them to spell words with. I am looking forward to continuing to see what other fun activities we will be doing.
As I mentioned, Amelia is using the Pre-K/K spelling section. In this section there are no separate lists to choose from. This is fine with me, seeing as it started out with simple "at" words.
I think games are a great way to teach and reinforce concepts, so I was thrilled to find this section.
In the above games we are to find CVC words, Consonant Blend words, Silent E Words, and in the last one vowel-r words. When a word is found we get to cover it with the "cards." We haven't had a chance to really play the games yet, but the girls have been finding words.
I am not sure if the girls will understand this game that is focused on contractions, but I printed it out to try.
The other section I knew I was going to love was the Pre-K Activities: Read and Play. In the past, children's books have been the focus of the studies, where, after reading the book together different activities are listed for each day of the week. You may be listening to a song, playing a game, doing a craft, coloring pictures, completing a worksheet, or cooking up a great recipe. These activities have been compiled by the teacher, making doing the lesson as simple as opening up the page, reading the instructions, and clicking on the links to discover games, or projects to print, or recipes to make.
Right now the reading selection comes from the Bible. We are reading Luke 1 and 2 and have been focusing our lessons on angels, baby Jesus in the manger and shepherds. I've even managed to tie it in to our other curriculum by drawing the children's attention to the letters we have done so far (s, m, l, a and n) and how they relate to the lessons over at schoolhouseteachers.com.
These are the angels we made
And here are the Baby Jesus Haystacks
Which reminds me, I am elated that there are recipes with each lesson as I can use them with our Kids and a Mom in the Kitchen time if I run out of inspiration. In addition to the recipes in the Pre-K section there is also a section called, This Month's Menu.

Disclaimer: I received a free copy of this product through the Schoolhouse Review Crew in exchange for
my honest review. I was not required to write a positive review nor was I compensated in any other way.
All opinions I have expressed are my own or those of my family. I am disclosing this in accordance with
the FTC Regulations.