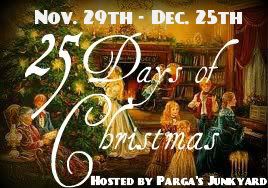 I am thrilled to be able to share so many great posts this month in anticipation of Christmas with the 25 Days of Christmas Blogshare.
The Christmas Season is one of the busiest of the year. So many of us run from task to task hurriedly often forgetting to stop and remember others. A new movement has evolved the last few years at Parga's Junkyard. One of Random Acts of Kindness! Each day throughout the season we strive to do one thing for someone else. It doesn't have to be big or cost money, just something that in some way helps another person out. A song we all learn as young children says "This little light of mine, I'm gonna let it shine" Let your light shine throughout the Christmas Season with Random Acts of Kindness! Read about more than 30 different Random Act of Kindness Ideas HERE!
Enter to win a different prize each day, from Nov. 29th through Dec.24th, with the 25 Days of Christmas Blogshare Giveaways! Each day we will be highlighting a post from one of our blog partners. Look for the link daily that will take you to the blogshare post of the day. By clicking on the day link you will find the rafflecopter form to enter each of the 25 Days of Christmas Giveaways!

Today's giveaway is for The Christmas Star book and World Vision Ornament!
Click on the link above to enter this giveaway (and check out Ideas for Random Acts of Kindness)!