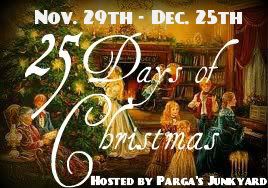 I am thrilled to be able to share so many great posts this month in anticipation of Christmas with the 25 Days of Christmas Blogshare.
Today's post is brought to you by Christine at Mama Papa Barn!
Have you ever thought about what other cultures and nations consume during the holidays? Well, you are going to learn about how ¤Guyanese¤ celebrate the holidays through food! Get the tasty bits here!
Enter to win a different prize each day, from Nov. 29th through Dec.24th, with the 25 Days of Christmas Blogshare Giveaways! Each day we will be highlighting a post from one of our blog partners. Look for the link daily that will take you to the blogshare post of the day. By clicking on the day link you will find the rafflecopter form to enter each of the 25 Days of Christmas Giveaways!