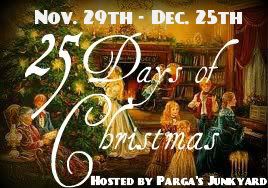 I am thrilled to be able to share so many great posts this month in anticipation of Christmas with the 25 Days of Christmas Blogshare.
Today's post is brought to you by Asha at Asha Butterflys
During the Christmas holiday it is a big thing for our family. Ever since I was a young child my mother always made the holidays so special decorating the house, making cookies and treats. Now, that I am older I am doing the same thing, making the holidays bright and cheery.
For this holiday season and part
of the
25 Days of Chistmas
I am going to making it special .
With sweet treats to eat and a sweet giveaway for you.
A Gift Purse Bag filled with
Flora :: The Garden Gucci Perfum,
Jewery and a few other goodies.
Click here to find today's giveaway!
Enter to win a different prize each day, from Nov. 29th through Dec.24th, with the 25 Days of Christmas Blogshare Giveaways! Each day we will be highlighting a post from one of our blog partners. Look for the link daily that will take you to the blogshare post of the day. By clicking on the day link you will find the rafflecopter form to enter each of the 25 Days of Christmas Giveaways!