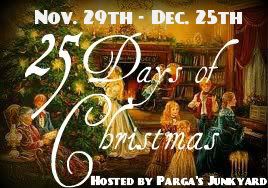 I am thrilled to be able to share so many great posts this month in anticipation of Christmas with the 25 Days of Christmas Blogshare.
Today's post is brought to you by Alyson at 3 Ps in a Pod!
Aren't you excited?! It is almost Christmas!! The featured post is about some easy and clever ways to wrap beautiful Christmas gifts ~ And who doesn't love the look of all the gifts neatly wrapped under the tree?
Alyson has put together a terrific set of ideas using items you probably already have, right in your own home. The b

eautiful

package

pictured above is just one of the simple yet appealing ideas offered!
To check out the whole post and enter today's fun-filled giveaway, go here!
Enter to win a different prize each day, from Nov. 29th through Dec.24th, with the 25 Days of Christmas Blogshare Giveaways! Each day we will be highlighting a post from one of our blog partners. Look for the link daily that will take you to the blogshare post of the day. By clicking on the day link you will find the rafflecopter form to enter each of the 25 Days of Christmas Giveaways!