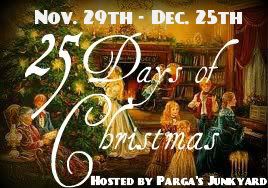 I am thrilled to be able to share so many great posts this month in anticipation of Christmas with the 25 Days of Christmas Blogshare.
During the Christmas holidays, I make a ton of candy! My all time favorite is for Pecan Brittle. I love the rich buttery flavor of Pecan Brittle and I'll be sharing my recipe for this brittle during the 25 Days of Christmas Event! So come over and visit me on December 10th and I'll be sharing this awesome recipe!
We will be giving away a Soylicious Melter and 2 Melter Gems of your choice! To see all the choices you will have, visit Soylicious! Each package of melter gems contains a ring worth anywhere from $10-$1000! And One Candle of your choice! ARV-$86
We have a fantastic range of scents to choose from and a huge variety of melters! Wouldn't someone on your gift list LOVE these for Christmas?
Merry Christmas!
Enter to win a different prize each day, from Nov. 29th through Dec.24th, with the 25 Days of Christmas Blogshare Giveaways! Each day we will be highlighting a post from one of our blog partners. Look for the link daily that will take you to the blogshare post of the day. By clicking on the day link you will find the rafflecopter form to enter each of the 25 Days of Christmas Giveaways!
And don't miss out on all the giveaways from the previous posts. Each giveaway is open for 7 days!
The Anniversary Gold Slinky/Our America Game Giveaway ends today.
The GalloLea Pizza Kits Giveaway ends 12/11
The Christmas Star Book Giveaway ends 12/12
The $25 Amazon GC Giveaway ends 12/13
The "Bubbleride" CD Giveaway ends 12/14
The Black and Decker Food Processor Giveaway ends 12/15
The Soylicious Melter Gems/Candle Giveaway ends 12/16