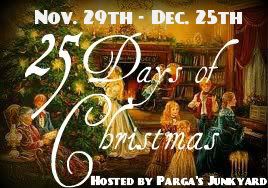 I am thrilled to be able to share so many great posts this month in anticipation of Christmas with the 25 Days of Christmas Blogshare.
SendaFlyingCard.com
, home of the Flying Card now offers customized holiday letters for children including a birthday letter and letter from Santa Claus.
Imagine the excitement on your child's face upon receiving a personalized letter from Santa! Santa can personalize details specific to your child including: your child's name, gender, age, hometown, and best friend or sibling's name! Add to those special memories of the Holiday season with an heirloom that will thrill today and offer warm, happy memories for years to come.
Learn more about SendAFlyingCard.com's personalized letters and enter today's giveaway at
Identity Discovery
.
Enter to win a different prize each day, from Nov. 29th through Dec.24th, with the 25 Days of Christmas Blogshare Giveaways! Each day we will be highlighting a post from one of our blog partners. Look for the link daily that will take you to the blogshare post of the day. By clicking on the day link you will find the rafflecopter form to enter each of the 25 Days of Christmas Giveaways!

Today's giveaway is for a Custom Letter From Santa from SendaFlyingCard.com
Click on the link above to enter this giveaway!