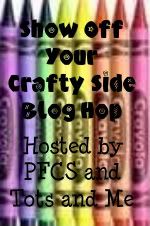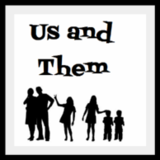 Chris from Us and Them
Here are just a few things about our new co-hostess that she would like to share with us:
I like lists so I will give you a list of things about me:
I am a SAHM.
I am married to the love of my life.
I have 5 kids and 2 step kids with our youngest being twin boys who are 5.
I have 2 Shih Tzus (dogs).
I love DIY anything.
I like to shop and bargain hunt.
I have an etsy shop but not much in it. It's a new venture for me.
I am honest, sometimes TOO honest (if there is such a thing).
That's about all I can think of right now. Thanks for letting me cohost!
Chris
OK,
So who's up for some free advertisement for your

Etsy

and

Artfire

shops? How about free advertisement for your

crafty-ness

? So....
We
want you to link up as many crafts, shops, recipes, sewing projects and DIY projects as you want..
This blog hop will be open all week long, starting on Tuesday night at 8 PM Central Standard Time, so be sure to check back often as more crafts get linked up with us.
This is a great way to show off and find some fun things to do.
1)

Link up your Etsy, Artfire, and any Crafty-ness. Not
just your main blog.
2) As always, have a great time, share your links with us, as many as you would like to share.
3) If you would like to follow the 2 hostesses, leave a comment. We will always follow you back!
4) Please grab our button above and help us spread the word about this awesome blog hop. Have fun, visit other blogs if you would like and thank you for sharing your links with us!
**We're going to try something new.. Each week we will choose someone from the link up to be our guest host. If you would like to be considered for the guest host position, just post something about this blog hop, include the blog hop button from above, follow both hostesses on GFC, comment letting us know you are interested in being a guest host.
Thank you for sharing with us! If you have linked up a craft with us, now you can grab the button below and add it to your blog if you would like..