Not sure exactly how this happened, but the week is over and I didn't have a chance to do anything resembling a lesson with the girls. I did make the
April Showers Bring May Flowers
muffin tin and dessert tray:
When we went to play group this week Tabitha wanted to read to a friend:
Hannah decided to use one of our activities a little differently. She wanted to put the lids into the jar for the pipe cleaners or sticks. So I opened it up and let her go at it.
The most distracting thing happened this week. The park has reopened!
And they're off:
As I stated, we haven't done a lot in the way of lessons. But it has been great to get back outside. A couple of days ago we watched a bumble bee on a dandelion for a while and some ants on some other dandelions.
Today Tabitha called a couple of the trees in the park her "tree house" and we had to climb the roots/steps to get up to her bedroom. She then found a nice piece of bark on the ground that I told her she could take home. It even had some moss on it.
And we got to go on our walks again. I thought it was so cute when they were holding hands:
And we spotted a bird's nest in a old abandoned trailer window.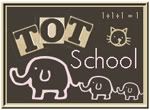 Share It Friday
Also linking to:
No Ordinary Blog Hop