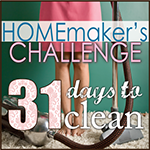 Well we have come to the end of the first week of the 31 Days to Clean Homemaker's Challenge found over at Cristin's blog Joyful Mothering. We were supposed to do the first 5 days this week as we are going Monday through Friday.
Sort of sounds like I may not have quite met all the challenges, doesn't it? I started out the week by skimming through the daily Mary and Martha challenges, thinking it didn't look so hard. I did write my reasons down in answer to the question, "Why do you want a clean home?" which was the first Mary challenge. I was so pleased with myself when I was able to get the day 2 Martha challenge done. The fridge and freezer are now clean and organized, grrrrr to anyone who unorganizes it. Though I wasn't sure how to answer the Mary challenge question about how I would bring life to our home. Then I read Day 3's list of 10 Ways to Give Life to Your Home and decided I needed to print it out. Which I haven't done yet, but I will. I am still working on Day 3's challenges. Though Day 4 is done, I have a clean oven and microwave. The windows for Day 5 are halfway done, though I haven't done the Mary Challenge yet. I have definitely been doing better with the Martha challenges than the Mary Challenges. Which in and of itself is surprising because I have had to play catch up as I haven't had the chance to get things done exactly as laid out. I hope to get all caught up on Saturday. I do like that we have the weekend to relax or get caught up. Especially because if we were supposed to be completing the challenge every day of the week to get done by May 31st we would have to be working on Sunday.
Hoping next week will go more smoothly. And I need to figure out how to get all this done and still have a decent lesson time with the girls.