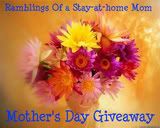 Ramblings Of a Stay-at-home-Mom
I found this awesome giveaway. Jessica from Ramblings Of a Stay at home Mom is on her way to having 300 followers and she would love to have you head on over, follow her and enter her Mother's Day giveaway. She is offering a gift basket for yourself or another mother you would like to give it to. As of right now the basket is filled with things mothers would love with a value of $100. She plans on adding more to it, but is not sharing what is in it. Don't you love a mystery?
Anyhow, head on over and check it out. This giveaway will end when she has 300 follower or May 15th.