This week we started and concluded our letter K. We will be continuing our /k/ sound next week with the letter C.
We started, as usual, with our
K muffin tin
:
Then I hid them around the living room. Amelia then took a turn hiding them from me. I did decide to just use these as activities instead of a lapbook. Mostly because I don't have any file folders left. We didn't do any more of these activities until later in the week.
Then I came up with a little tracing/gluing activity:
They were to glue the K on and trace the words.
Amelia's tracing is still improving.
Even Hannah wanted to write.
Then the girls really got to kiss the paper.
Tabitha wanted to give her's a happy face.
Amelia's is sad because it is bleeding. Or as she says, "It has bleed."
We don't usually wear makeup, but I made an exception for this. In fact, we had to go out and buy the lipstick because I don't have any in the house.
Then Hannah had to see what was so fun about sticking faces on the paper.
Yummy!
"Our mittens we have lost."
Their version reads,
"That we have lost our mittens."
It just didn't sound right to me.
Anyway, because we put together the books I decided to ask the girls if they wanted to make pie. So we made a nice simple chocolate peanut butter pudding pie. I follow the instructions on the box of instant chocolate pudding. Except I usually double the recipe, add a 1/4 more milk and add 3-4 heaping tablespoons of peanut butter. Then I add chopped up Reeses Peanut Butter Cups. The girls took their turn cutting them.
And adding the pudding mix.
Then they added the chopped up candy when I was done mixing it.
I told the girls they could eat the pie for dessert at dinnertime while wearing some mittens.
Yes, they soiled their mittens.
We have been enjoying some fun outdoor time at the park again this week.
Hannah just loves the slide.
The authors are natives of Spain and Argentina respectively but now live in America. In this book they share songs and dialogues for different scenarios, such as Time to Get Up!, Time to Get Dressed!, Let's Go To The Park!, and Let's Go to Bed!
The Spanish version is written side by side with the English and there are key words highlighted in addition to several pictures on the bottom of the page that are also highlighted. This also comes with a CD. I took it to the park and started using some phrases with the girls.
Vamos al parque-Let's go to the park.
Hemos llegado al parque- We have arrived at the park (wasn't that far of a journey, just across our back yard)
Qrieres ir al tobogan? Would you like to go on the slide?
and lots more.
I am still not sure of my pronunciation, but I repeated the phrases over and over again.
Not sure how things will go, but I will be mentioning it again after having some time to really use it.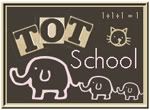 Share It Friday

I found a great new linky to link up with
Also linking to: