It's been another productive week here. I am not sure what there is about having the new curriculum, but I have been extremely motivated and organized.
This week we focused more on the Trinity. We used the illustration of an egg to explain the Trinity, which I thought was a pretty neat idea. I've seen the shamrock used around St. Patrick's Day, I've used the triangle. Both of which are three parts to make a whole. But the egg seems really appropriate, because each part is actually different from the other, shell, white and yolk and has a different function/job, just like the Father, Son and Holy Spirit do. We then spent some time drawing pictures of our family (all of whom have a special function in our family).
We sang a cute song to reinforce the idea of God being 3 persons in 1 and then spent time doing things in groups of three. I let the girls take turns picking things to do, Amelia liked choosing spinning 3 times. Daddy had us do 3 sit ups. Though we also got to jump and clap. Then we built 3 block towers...
and pyramids.
Amelia still has some difficulty with counting one to one. She can count, but she didn't quite get the idea of stopping at 3. So we will work on that occasionally.
I'm not sure which day we actually did the second day of our Interlock, but we learned that is important for people to work together. We made a "Our Helpful Jobs" chart. I didn't feel comfortable calling them "chores." We came up with different things the girls have been helping with and can start helping more with. Things such as, helping with the laundry (putting them in the washer, putting them in the dryer, and Tabitha also helps fold), cleaning their spot on the table after meals, picking up toys, picking up papers and sweeping after meals (Hannah makes a royal mess). I wrote them down, put the paper in a sheet protector and added lines to make it into a chart. Then they get starts on it when they complete "helpful jobs."
We really didn't do everything in the Interlock this week, the biggest reason was I just couldn't go out and get some of the materials. Though some things just seemed to much of a review that wasn't needed. Next week looks interesting though.
I am glad that the Interlock is just extra stuff really. We did have a lot to do with our C lessons. The girls worked on finding C's
On Wednesday we had a picnic in our back yard.
And got to enjoy some time observing the clouds. And of course, if you are going to observe puffy clouds, you have to spend some time figuring out what they look like, don't you? Tabitha of course gave Amelia input for what she was seeing. I actually had them look at the pictures a day later, to see if what they came up with was different (it was).
Tabitha: whale
Amelia: elephant
Tabitha: dog or zebra
Amelia: fish
Mom: Dog
Tabitha: heart
Amelia: whale
Mom: face (possibly a frog)
Mom: I see a bird wearing a baker's hat blowing out a fire or blowing smoke or ice.
And Cumulus Clouds
I showed the girls several sight words one at a time. Tabitha really knew them all already. Then they put them on the chart. After they were all on, I asked the girls to find a word and hand it to me. Amelia actually did pretty well.
Unfortunately Miss Hannah likes pulling the circles off the caterpillars several times a day.
Then we made Cotton Ball C's, which conveniently looked like clouds in the sky. What can I say, I like connecting things in our lessons.
We had another spontaneous activity at meal time this week. I had recently read part of the Hershey Fraction Book that I had actually planned on doing when we discussed fractions while doing F. I just kept putting it off, but decided I needed to read it before having to return it to the library. We only got a few pages in and the girls were getting really frustrated that they couldn't eat their chocolate. So, I let them eat them, sharing them out evenly. What amazed me, was that Amelia wanted to do it again after I returned the book. So I simplified it a bit. We talked about the bar being 1 whole bar (in the wrapper and out of the wrapper). Then I broke it into 2 pieces, putting half on one side of the paper and one on the other. I wrote the fractions above the candy, telling the girls they had 1 of two parts. Then we pushed them together to show two of two parts make one whole.
Then I broke each half into half giving us 4 quarters. Once again I wrote the fraction, explaining we had 1 of 4 parts as I wrote.
Then we put them back together and I showed them 4 of 4 parts added together make 1 whole bar.
Then we shared them out and ate them:
Mommy and daddy had to share 3 pieces, so we got 1 and a half rectangles, while the girls each got 3 rectangles which were 1/4 of the bar.
Tiny Tot Time
Miss Hannah found herself a new activity. She was in my cupboard and found this pan
And had fun putting plastic silverware (also from the cupboard) in the hole.
She also discovered that you can make some cool "music" with plastic forks and spoons and a cooling rack. Sorry, no pictures of those.
And of course, this is how she spent a lot of time at the Fire Station.
Chicken Soup for the Soul: Shaping the New You.
I am keeping it open til June 1st.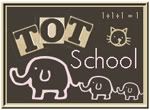 Share It Friday
I found a great new linky to link up with
Also linking to:
No Ordinary Blog Hop