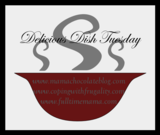 Okay, it has been a couple of months since I have linked up to Delicious Dish Tuesday, but I found this great crock post recipe a few days ago that I had to try yesterday and I thought it would be perfect for sharing. I found this recipe over at Blessed Beyond a Doubt and promptly
pinned it.
It is so simple and tasted great. It definitely finds a home in our Keeper Recipe pile.
Simplest Chicken and Dumplings in a Crock Pot


Yum, yum.
(Amelia really chowed this down.)
Ingredients:
3 lbs. of chicken (She uses frozen)
1 large can of cream of chicken soup
1 small can of cream of chicken soup
2 cans of refrigerated biscuits (She uses cheapy brand)
Instructions
Place chicken in bottom of crock pot (You can put it in frozen).
Place cans of cream of chicken soup on top of chicken.
Cook on High for 4 hours or low for 7-8 hours.
Thirty (30) minutes before serving time, cut biscuits in quarters and stir in chicken mixture.
When dumplings rise to the top, they are finished.
Enjoy!