We continued our study of the creation week this week. We struggled a little to find time to get school time in. I am really hoping that improves. Fortunately, I already planned on taking 2 weeks instead of 6 days to finish a unit because I knew there would be issues with trying to get things done with the baby.
Tabitha and Amelia then went a little crazy with the stickers and wanted to be rock "stars" and put on a show about creation.
Our next day of school did not occur until Thursday, even though I had planned on 4 days this week. But we had some "visitors" show up Wednesday morning and the girls wanted to play, sooo.... they did. I did still give them a muffin tin for lunch as it was already in the planning stage and I wanted to make it.
Day 5 Muffin Tin
(God made the animals in the sky and water.)
God created the sky.
They both chose a cloud for me to photgraph.
God created the land and plants, etc.
God created the sun...
...and the moon and the stars, but I ran out of memory card space (again) so we couldn't go back out at night to take more pictures. Which means no pictures of animals either.
Thursday the girls worked on their Creation Page book for Day 5. Then I made them this Fish lunch.
They had a tuna salad sandwich shaped like a fish. Mama fish has some baby goldfish fish and they were swimming above the Parmesan Cheese Shell macaroni. I thought the shaky cheese would make great sand. The red cabbage in the salad made great seaweed. The grapes are air bubbles.
Today we learned about the 6th day of Creation:
I gave the girls Monkey shaped peanut butter sandwich (this was a new-to-me peanut butter from Planters called Nut-Trition)) and the monkey was playing on the banana slices.
The peanut butter and apple butter sandwich was cut into an elephant.
Next were the dinosaur chicken nuggets.
A pig shape piece of ham was "wallowing" in a mud pit filled with Nutella.
The cow shaped piece of cheese was standing in the field of spouts.
And the hippo shaped watermelon sat on the water Jello.
I sure had fun making these extra tins.
Here are their Day 4-Day 6 Creation Book Pages:
Amelia's:
Hannah's:
Tabitha's:
And tonight I made some animal shaped pancakes for dinner.
Fish, chick and bunny
What I saw as a fish Tabitha saw as a lamb's head.
Horse and bear
It started out as an attempt at a giraffe. No clue what it is.
Toad and bunny.
These were the best of all the different animals.
Hannah has been joining in with our lessons for now. I plan to have other things for her to do, but I have noticed on other occasions when I wanted her to do something different, she always wants to do what her sisters do. If she could just stop getting into everything and moving all over the place.
My little guy is starting to learn how to sit.
He loves playing with his toys and his sister's love playing with him.
Sitting with daddy at playgroup
Trying to keep him occupied to get something (anything) done...
I definitely remember having a picture of Tabitha and Amelia at the school table with Hannah in the Bumbo. Wish I could find it.
I thought this was cute.
The muffin tins are my own ideas.
We read several books about creation (will update when I find the titles)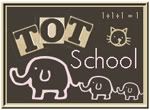 And a couple of new linkies: