Here is another great event you may want to join in with.
Come join with Makobi Scribe and MomVantage in the
Bloggers Giving Back Baby Bash
from July 23 to July 29.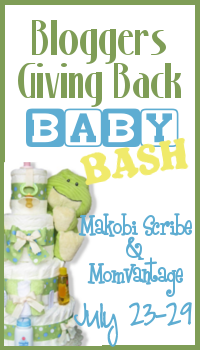 Another great Baby Giveaway is coming up and it is FREE, you do need to secure a prize that is baby related worth a minimum of $25. I have started looking for a sponsor, make sure you do too.
While it is not mandatory, it is encouraged to give back to your community in some way. Whether it be donating your review item to a shelter, church or person in need, or donating some items you are no longer using around your home.

(Isn't that a neat idea?)