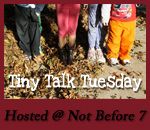 One day Tabitha said, "You know what I want to do, I want to go to space."
Daddy replied, "That is really expensive."
Amelia added, "You have to be an astronaut.
We need a helmet.
You know what we need to be safe in the rocket. A helmet."
Amelia, for some reason, continues to be eaten up by what I guess are mosquitoes. One day she said, "The bugs are bad they keep saying that I'm delicious."
Amelia really wanted to go out to play one rainy day. I overheard her say, "I don't care about the wetness, can I go out and play."
Amelia came out of the playroom one day saying, "I have my belly button in, it falled out." It appears she was putting what looks like a wheel to a matchbox car in her belly button and it kept falling out.
We tried to convince Tabitha she was really tired because she was yawning. She replied, "The reason why I am yawning is I have too much breath. I have to much air in myself."
For more cute sayings head on over to Not Before 7.