Scavenger Hunt Sunday items: Words, Under, Orange, Fly, Always Look on the Bright Side
Words
Words on the library sign about words in the books inside the library.
The girls were having a great time playing in the yard. Tabitha insisted the slides be side by side, facing the same direction. They were having the time of their lives climbing, sliding, crawling UNDER.
This is the barrier over at the bridge that stops the cars from going into the construction zone. Pedestrians are allowed to go through as there is a pedestrian bridge. I thought I would get some shots of the girls going under.
And a couple of shots of the water going under the bridge.
(Sorry, I couldn't decide which I liked best this week.)
The flower arrangement in the front of our church drew my eye last week.

Couldn't resist a shot of the orange sprinkled donuts in our box of donuts from our once-a-year trip to the cider mill.
I was having an awful time finding some birds in flight. I finally stopped by the Tops parking lot today and saw the ever present seagulls. Would have preferred a blue sky.
Always Look on the Bright Side
I saw this poor unfortunate soul (yeah right) on the side of the road. I decided that no matter what is going on in my life, I can always look on the bright side, at least I am not trapped in a hay bale. Okay, I struggled with this one a bit.
Now for my favorite picture of the week: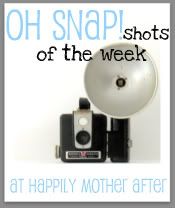 Also linking to: