Scavenger Hunt Sunday items: Abstract, Round, Fire, Seeing Faces in Strange Places and Stars
Abstract
Round
Hannah was having a blast at playgroup this week. Going 'round and 'round the pole. I thought the mat pieces right next to her fit in the picture really well. I also liked the round wheels on the riding horse.
Fire
I really had no idea what I was going to do for this prompt, then when we were walking around town one day this week I happened to notice the construction workers at the bridge had a small fire going. So I had the girls watch the construction for a while, which they love to do, and I snapped a few shots.
Seeing Faces in Strange Places
At first I was hunting for faces everywhere I went. I looked in trees, in the sky, on the bridge, etc. Then I thought, where can I have the children put there faces that is strange. While they were playing outside at playgroup I decided to bury them. I thought it was so cute.
Of course, I thought I would also share the picture of the "face" I found on the bridge.
I added the mouth using a piece of plastic I found nearby.
Stars
Once again, a picture from our walk. I wasn't sure how I was going to get a picture of stars. So I thought this shot of the girls looking up at the flag outside the library would work.
And now for my favorite photos of the week linking up to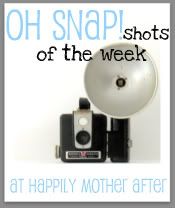 Also linking up to