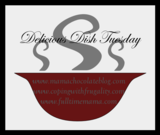 I just saw this link up on another blog and thought it would be cool to participate, especially after I found this really yummy, really super easy recipe today.
We had purchased a large pack of hot dogs earlier this month and when I thawed them all on accident a few days ago we decided we needed to do something with them quickly. Hubby had thought about putting them in the crock pot with barbecue sauce, but I am a person who needs a recipe, so I hunted and found this great recipe idea.
I just took the equivalent of 2 packages of hot dogs (which is what we had leftover)
1/2 (32oz) jar grape jelly
18 oz Honey Barbecue sauce
I mixed the sauce together first, then threw the hot dogs in (cut in quarters).


Very tasty!!
It went well with Macaroni and Cheese, along with some cooked winter squash.