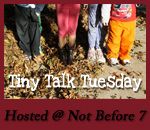 When we went to the Buffalo Bills game last week we wanted to look for my doctor, who is also a Bills fan. (In fact we go to my appointments, spend a few minutes on the baby and then my doctor, who is female, talks football with hubby). Anyway, she sits in the Family Corner as do we, so we wanted to see if we could find her. Tabitha said, "We'll look for her til we see her."
It was getting lighter out, as we were getting ready to go to the game (the girls aren't used to being up that early). Amelia said, "It's getting even day-er."
Last night when we went for a walk there was a bug following Amelia. She thought it was a bee. I told her the bees were probably sleeping as it was already dark. Tabitha said, "I think I hear the bees snoring." A few minutes later she wanted to know what the little bees would do if they woke up in the middle of the night with bad dreams. I said that their mother would tell them, "It's okay, you can go back to bed."
On the other side of town, when we were almost home, Tabitha decided we had to walk quietly so we wouldn't wake the birds. At one point we were walking through fallen leaves and she said we had to walk over to the side because the crunching sound of the leaves would wake the birds. Then she wondered what would happen if the birds woke up. She answered her own question by stating, "Their mommy would tuck them back in."