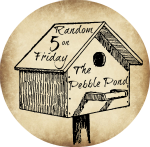 Wow, I did not realize I haven't posted a Random 5 on Friday since February 15th. I just haven't been able to get organized. Let's see if I can keep up with it better from now on out.
There are funny things or cute things that will happen during the week that I would like to share, but they don't really make a post on their own. So, this is the perfect opportunity to share them.
1. The children have been so excited because Story Hour started back up at the beginning of March.
On March 2nd they made Paper Bag Princesses
On March 9th they made Cat in the Hat hats with white and red-dyed cotton balls. Even Harold really got into this one.
Today they made Paper Plate "Pots of Gold at the End of the Rainbow" crafts.
2. The other day, Amelia decided to try some science experiments on her own. She put some baking soda in a bowl, then added vegetable oil and then vinegar. There wasn't quite the amount of fizz she was expecting. So daddy tried just vinegar and baking soda, and that worked much better.
3. The other morning, even before the two youngest kiddos were dressed, they decided they wanted to paint. I just let them go at it. The older two also got involved.
4. As you can see, letting them "go at it" might not have been the best idea...
(Actually, Hannah's hands were worse.)
My poor sink.
5. Tabitha was quite excited to get her physical workbooks from Spelling You See. Be on the look out for our review at the end of the month!