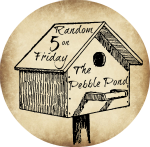 Well, I am a day late again, but I remembered. I actually did remember yesterday, just didn't have time to get the post done.
There are funny things or cute things that will happen during the week that I would like to share, but they don't really make a post on their own. So, this is the perfect opportunity to share them.
1. I couldn't help but share this picture of Harold. My sister got him this hat for Christmas and he just loves it, as do I.
Usually we don't sleep on the back of the love seat.
Then I served them a breakfast of pink heart-shaped pancakes, sausage x's and honey nut Cheerios o's.
While daddy was gone, we made him his "cards."
Hand prints that form a heart in the middle.
And then when they dried they wrote a little saying and signed the cards.
Then they waited for daddy to come home to give them to him.
And, I gave them a Valentine's Day Muffin Tin and opened Valentines from our Valentine's Day exchange we were participating in with the Crew. Neither of which, it appears, I can share pictures of because my computer won't load my pictures from my camera all of a sudden.