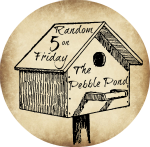 Well, I am a day late again, but I remembered. I actually did remember yesterday, just didn't have time to get the post done.
There are funny things or cute things that will happen during the week that I would like to share, but they don't really make a post on their own. So, this is the perfect opportunity to share them.
1. I have been amusing myself with the lovely designs made in my tea each morning when I put my honey in, give it a little stir and let it sit for a while to dissolve.
And a couple of examples from the book.
Here are the girls' creations.
Amelia's:
Tabitha's:
Hannah's: