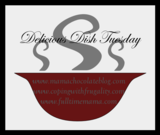 I found this recipe for Chicken Pot Pie from allrecipes.com. It had been awhile since I made it, so when I realized I had leftover chicken I planned to surprise hubby with this yummy favorite. I did make a few changes from the original recipe and this time I used a store bought refrigerated crust because I was short on time (go figure, short on time with 4 little ones).
Here is the link to the original recipe.
And here is the recipe I usually use with the changes:
Crust:
2 cups flour
1 TBS onion salt
3/4 cup shortening
1/4 cup cold water
In a large bowl, combine flour and onion salt. Cut in shortening until mixture resembles coarse crumbs. Add water and stir until it forms a ball. Divide dough in half and shape into balls. Roll one ball out to fit a 9 or 10 inch pie plate. Place bottom crust in pie plate and roll out top crust.
(Of course this time we used the store bought crust)
1/2 tsp garlic powder
1/4 tsp pepper
1/4 tsp oregano
2 cans cream of mushroom soup
In a large sauce pan, heat 1 tablespoon butter. Add chicken and onion and cook until mixture is just browned. Stir in veggies and season with garlic powder, pepper, and oregano. Stir in condensed soup. Heat mixture, stirring constantly, until it just begins to simmer.
and cover with top crust. Fold top crust under edge of bottom crust, seal and cut slits in top crust.
I made the changes the way I did, because we didn't really like the sugar in the mixture and we felt there wasn't enough liquid, so I added an extra can of soup. I cut out the onion salt in the filling because I felt there was enough onion with the chopped onion and we like garlic, so I added the extra garlic.
Sorry I forgot to take a picture of the finished pot pie.