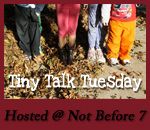 I just have a couple of cute little comments this week.
We finally got some snow the other day. Tabitha siad, "It's raining snowflakes."
Tabitha came into the room showing me a dime and telling me it was the smallest coin so it was a dime. I told her she was learning a lot from the DVD (Money and Making change)She said, "I love that movie that way we can learn."
And Hannah has a new word. "mine." Or more often than not, "mine, mine, mine"