Scavenger Hunt Sunday items: Portrait, Nostalgic, Time, Full of Light and Motion
Portrait
A few weeks ago I was trying to take some shots for our Christmas card. This was my favorite shot, though I had to rotate it because it was slightly tilted (and it still is) and I added the vintage effect.
When I was taking a walk the other day (once again while Tabitha was in Story Time) I decided, out of the blue, to head down the one side street. I completely forgot this "Old and New" Shop was there. I figured people who are nostalgic may like to collect antiques. That and the old fashioned tricycle brought back memories.
We made it back to the library just in "time" to go and get Tabitha. This clock is right across the street from the library. And I loved this shot because I had Amelia looking up at the clock and it shows the hot air balloons on the clock very nicely. There is an annual Balloon Rally in town every summer.
Full of Light
I took this picture a short time ago. I wasn't sure what I was going to do, then I remembered hubby had finished getting the Christmas lights up this afternoon and our new Nativity figures were full of light.
Motion
I was trying to get a shot of Hannah with her name in blocks for some customizable flash cards I am going to be reviewing. I just could not get her to stay still. She is always full of motion. And I love the way her dress looks in the last shot.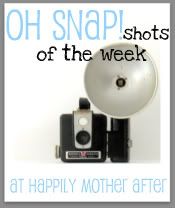 I know it's blurry, but I thought it was so sweet.
I walked around our dining room table and came upon this site. The cute stuff cat named "Lazy Kitty" that was given to the girls from a friend at church last week was sitting on the floor with a mug for food. The thing looked so real.
And I realized, I really do love this shot.