This week we continued our letter R activities, when we had a chance that is. The outdoors has been calling and we have had a hard time ignoring it.
Of course we started with our
R muffin tin
We were able to make our rainbow rice, which I have wanted to do for a while and I figured this week would be perfect.
I actually followed the instructions I have for making colored noodles. We dyed the noodles back in
January of 2010
. Here are the girls all ready to get to work.
We used the rice from our sensory tub.
It was very simple. We placed 1 cup of rice in each bowl.
And added 1 tsp of rubbing alcohol and 5-7 drops of food coloring. I have seen elsewhere that people of questioned the use of rubbing alcohol. So, of course I had to experiment. I tried coloring one bowlful with out the alcohol and it didn't mix in properly. I have also seen a variation where people have used vinegar in the place of the rubbing alcohol. I actually experimented with that last January and found that the alcohol helped the color penetrate the noodles more fully for a brighter color and left them less brittle. I shared about this in the above linked post, but here is the picture of the noodles so you can compare
Anyway, then the girls stirred the color in. I actually found it coated better if I combined the alcohol with the food coloring and then poured it in the rice. And you have to stir quite vigorously to get a decent coating too.
We then left it outside in the nice hot sun to dry thoroughly.
Definitely looks better after drying.
It wasn't until a couple of days later that we got to use the rice.
We made our "tactile" r's.
Then we dumped the colored rice into the sensory bin.
I even let Hannah play in it. She has been playing it the sensory rice tub with out permission for a while. She loves to hear the rice as she spills it onto the floor.
On this day she enjoyed transferring it to the container and then...the floor (sigh).
Should have gotten a shot of the floor. Oh well.
While Amelia traced the letters USA and decorated her rocket body...
Tabitha cut out her "exhaust flames" and then got creative.
Then Tabitha decorated her rocket
While Amelia cut out her strips.
I really am happy with Amelia's progress with cutting on the line.
I stapled the rocket into a cylindrical shape and also stapled on the paper exhaust strips.
Boy was it tricky getting the cones to stick to the top.
We are going to work on some rhyming activities (that I found in the Phonics activities book I mentioned above) next week. I have not planned anything for our next letter because we have VBS over at the church where we meet for Play Group all this next week.
This week's Bible verses were:
Our R verse:
Remember the Sabbath day, to keep it holy. Exodus 20:8
Our verse from the Interlock curriculum
And God said, "Let there be light" and there was light. Genesis 1:3
This week we focused on light compared to darkness. We talked about how when God made light it chased away the darkness, because with light there is no darkness. Even at night there is light from the moon and the stars. We went in our downstairs bathroom (the one with no outside window) and after seeing how dark it was I lit a candle, then blew the candle out and turned on a flashlight. We talked about people years ago not having electricity and needing to use candles or oil lamps and such to see. Then we turned on our electric lights.
We also spoke a bit about opposites.
Tiny Tot Time:
She loves finding paper and writing utensils to scribble with.
She decided it would be fun to hang on the table
She loves playing with the legos, though she really can't build with them yet.
I just thought it was so cute the way they all gathered together.
Amelia's constructions
Tabitha's staircase
A bit of a better shot of the stairs.
Hannah was having a blast putting the baby doll in the stroller and pulling it along with her. She took it to the kitchen and started taking food out of the cupboard. I said she was shopping.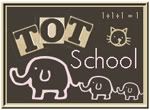 Also linking to:
No Ordinary Blog Hop