Hannah has been working on her cutting skills and cuts out her pictures to make a letter book for each letter/sound.
We will finish the book this coming week.
Hannah started out with spooning some multi-colored pom-poms.
I then realized that using only the black and white pom-poms would be fun because they could represent the colors of the penguins we were learning about.
Harold does very well with spooning. Except, he did try to eat them after using it properly for a few minutes.
Hannah also worked on some color sorting.
We had a Letter P muffin tin.
As we were cleaning out our pumpkins and getting ready to carve them the girls were having fun trying to put the correct tops on the pumpkins. We decided to make a game out of it. I arranged the pumpkins in a semi-circle with the tops randomly set out in front of them. I then timed the girls to see how long it took them to put the tops on the correct pumpkins.
Lately Harold wants to do everything the girls are doing. He had a blast playing with the lids.
Oh, the lids make great hats too according to Harold.
This week at co-op we made pumpkin patches. I had done this with Tabitha when she was a young toddler, before I started my blog. I had them draw squiggly lines on green paper to represent the vines. Then they glued on 10 pumpkins.
We finished them off by counting and writing the numbers 1-10.
Here is Hannah's pumpkin patch.
And this is Harold's pumpkin patch.
For a penguin craft I thought it would be fun for the younger two to make shape penguins. Tabitha and Amelia also wanted to make one.
Our penguins have black oval bodies, white circle bellies, circle eyes, orange triangle beaks, star feet (and we added rectangle wings after Tabitha realized they looked funny without wings).
I asked Harold to show me his penguin so I could get a picture. This is how he showed it to me, he pointed at it.
We used our air pop popcorn popper without its lid so the popcorn could fly all over. We did this a year ago when we were on Day 2 of the creation unit.
Then we painted our penguins a little snowy habitat.
We read some great informative books on penguins.
This girls and I took turns reading the information on each page. Each double page spread focuses on one feature of the Emperor penguin, showing a close up picture as well.
This tells the story of the Emperor Penguin's egg from when the mom leaves it with the dad through the mom returning so dad can go off and eat. I love the way it involves the reader by asking questions, and there are additional details in italics at the bottom of some pages.
The Little Penguin by A.J. Wood
This is a cute story of a newly hatched little Emperor penguin who wants to look like his father. He gets lost as they are traveling to the sea and discovers his feathers are falling out. When he meets back up with his family he goes swimming and finds that he has lost his baby feathers and looks like his dad. Though it is a cute story it wasn't very factual when compared to the other books we have read. Still, the children enjoyed it.
(a Let's Read and Find Out Science book)
This book was quite informative. Though we were reading some repetitive information, we were also introduced to some new vocabulary that the other books hadn't used, like brood pouch and tobogganing.
We have many other penguin books we are going to be reading as we finish up our P:Penguin unit. I will be sharing them next time.
I am linking to: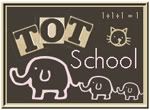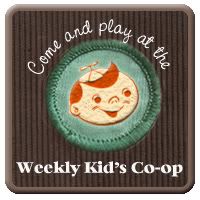 And a couple of new linkies: