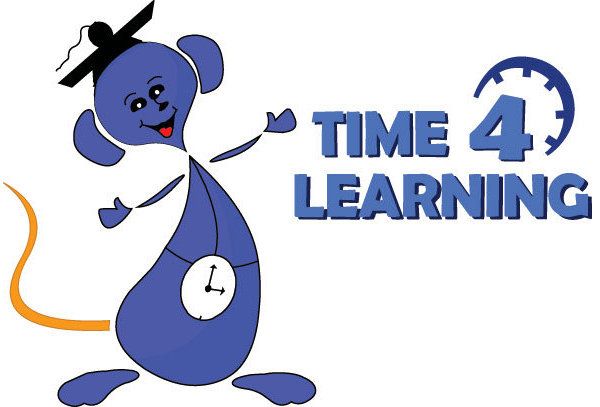 Time4Learning
is an online educational program. They offer curriculum for preschool through 8th grade and have recently added a high school program as well. The Lower Level includes Pre-K-3rd grade, the Upper Level includes 4th-8th grade and High School is for 9th-12th grade. We received a 6-month subscription to Time4Learning through the Schoolhouse Review Crew. Amelia has been enjoying the interactive, animated lessons in language arts, math and science, which are the subjects available at the Kindergarten and 1st Grade levels.
Here is an overview of the lessons available from preschool through 8th grade.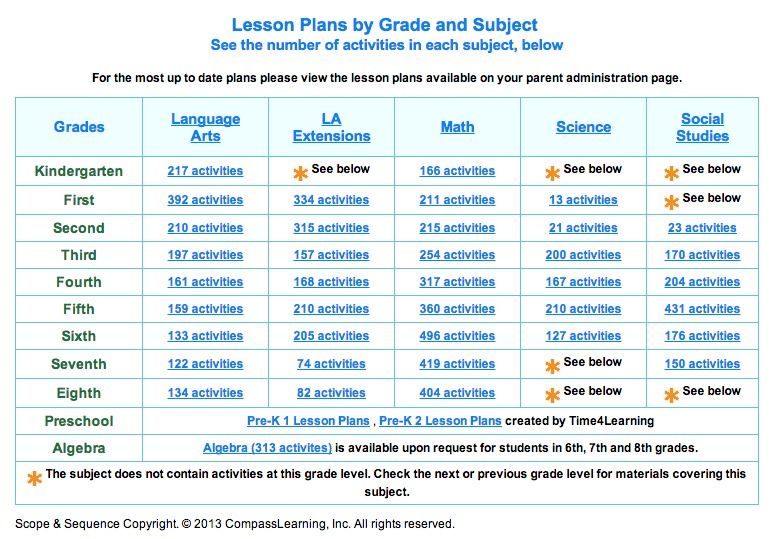 One of the features I really enjoy with Time4Learning is that you sign up for a specific grade level, but you have access to one grade lower and one grade higher. This is wonderful because you can find just the right level in each subject for your child. Additionally, if you find that the level is still not matching up for your child, all you need to do is contact them and they will switch your child's level. When I first signed Amelia up, I wasn't sure where she would best fit. As she has just started kindergarten, that is where I placed her. As we have worked with the program this month I have discovered that Amelia was definitely ready for the First Grade Language Arts lessons, though we are sticking with the Kindergarten level math for now.
So, just how do you get started with
Time4Learning
? It really is so simple. After you sign up, it is recommended that you familiarize yourself with the site by logging into your Parent Admin Account.
You can check out some important information on How to Begin such as Basic Help through a Demo, Basic Navigation Help, Student Schedules, the Activity Scheduler and the "all important," How to Get Help and Ask Questions. Under Lesson Previewing you can check out How to Preview a child's lessons, Viewing and Using the Lesson Plans, Progress Reports, Understanding the icons for the Activities, Quizzes and Tests, info about the games played while lessons are loading and how to use the Odyssey Writer. In case you were to experience Technical Issues, there is also a section for that.
Once the parent feels comfortable, it is a simple matter for the child to log in and start using the lessons.
While there is a recommended order in which a child should do the lessons, it is not so rigid that a child has to do it in that order.
The program will show a child which lesson they are up to with an arrow on the screen (I have circled it in red above), however, the child is always free to click on any section. This is the Kindergarten level math which I am having Amelia run through to make sure I haven't left any gaps. So far these lessons have been a mite too easy for her. Each chapter focuses on specific lessons. For example:
Under the Sea focuses on Likeness and Difference in addition to sorting and simple patterns with attributes.
Playtime in the Park focuses on positional words and shapes.
Let's Go On a Safari focuses on numerals 1-20 and comparing groups in different ways along with early addition and subtraction.
What's Cooking focuses on Calendar, Telling Time, Measuring and beginning, informal fractions.
And Numbers in the Neighborhood focuses on exploring numbers through such topics as patterns, graphing and even probability.
After she clicks on one of the icons she will see the lessons in that chapter. Once again there will be an arrow on the screen showing her where she needs to work. If I realize that the subject is something she knows I will have her take the quiz (each of the separate sections has had a quiz). So far she has been scoring 100% on the quizzes so I have let her continue to the next lesson. If she comes to a section she doesn't score as well in I will have her do the lessons for some practice. Most of the math lessons also include a printable worksheet. Though we haven't needed to print any of them out yet, it is a great feature for additional practice. Once all the lessons in a section have been completed the child can take the chapter test. Once that is done, it will show up as "Mastered."
The Language Arts lessons are organized a bit differently. Kindergarten Language Arts focuses on the sounds of the letters learned in relation to a nursery rhyme or children's story along with phonemic and phonological interactive activities for each letter. There are also printable "worksheets," which are really the decodable stories. When we first started with Time4Learning Amelia was bored with the LA lessons as she had to sit there and learn about sounds she already knows, plus sit through learning about details in stories. As soon as I introduced her to the more advanced lessons in 1st grade, she was hooked. There are a mixture of scored and non scored activities taught with fun and interactive animated lessons. It is important to me that the children learn reading through phonemic awareness and phonics which is the main focus in the lessons. However, high frequency words are also included to help improve reading fluency. Vocabulary and comprehension are also taught at the lower elementary level.
So far the Language Arts lessons in 1st Grade have all been following the same pattern.
They start with isolating the lesson's targeted phonemes or specific sounds with interactive games.
They alternate between Bug Dunk,
Build a Buggie Band.
and Mission Control.
Next they focus on Phonics by practicing putting words together, sounding them out and finding missing letters.
This part of the lesson alternates between the Training Grounds with the cadets
and Letter Ball.
The next activity is a game to identify High Frequency Words
So far, we have come across 4 different games that they alternate between.
There is then a decodable story to read.
And finally there is a Think and Respond Activity that goes with the decodable story.
Amelia has been spending the majority of her time in the Language Arts section. She is loving the different games and activities.
Here are the sounds that are worked on in these lessons:
The other subject that Amelia has access to, that both girls are enjoying, is the science. There are some simple topics, like distinguishing between living and non living things, earth science, and surface of the earth. They follow along with the animated story and answer some questions.
Some of the lessons also have printable worksheets, labeled as "resource" on the screen.
Amelia also has access to the Playground. As the parent I can set how much time she needs to work on her lessons before she has access to the extra games and sites. I can also set the time she is allowed in the playground. There are action games, educational games, puzzles, activities, two player games and links to other kid websites. Unfortunately, my girls found the link to PBS Kids which gives them access to videos. So instead of playing games they have been watching additional episodes of Daniel Tiger's Neighborhood.
Another feature that I really like is the Student Portfolio. With this I can check what lessons were completed during the day, week or month. It will show any grades that were received if Amelia worked on a scored activity. As the parent, I can also generate a report for each subject.
Time4Learning has been a huge hit in our house, after we found the right level Amelia should be working on. She loves being able to interact with the stories and activities and she is improving in her reading. I love that I can check her work and see how much time she spent on each activity. Some people use Time4Learning as their complete curriculum. We are using it more as a supplement, though the reading lessons seem to have become Amelia's primary reading curriculum. You could also use Time4Learning as an after school or summer school program to reinforce skills.
Time4Learning is $19.95 per month for the first student in preschool through 8th grade. Each additional student is $14.95. The price for high school is $30 per month per student.
Members of the Schoolhouse Review Crew have been trying out the different levels of Time4Learning. You can
click here
to read their reviews.