This week we have been working on finishing the unit we started the week before Thanksgiving. At first I was going to move on to Week 17, but I realized we hadn't quite done everything I wanted to accomplish. I am very glad we took the extra week as we did a few more hands on activities and I feel like we got a lot more out of the lessons.
We haven't been having a story time every day, though I would like to go back to that schedule. I think we are a bit off schedule because we have been spending time with Melk the Christmas Monkey, doing his activities before putting him back to bed (as he is a nocturnal animal). I think next week we will read our books with Melk before putting him to bed.
Though our schedule hasn't been the same, we have read some of the books I took out for the rainbow unit. We read
A Rainbow of My Own
by Don Freeman,
The Rainbow and You
by E.C. Krupp,
All the Colors of the Rainbow
by Allan Fowler,
The Magic School Bus Makes a Rainbow: A Book About Color
by Joanna Cole, and
Fox Walked Alone
by Barbara Reid (about Noah's Ark).
The older girls are doing a wonderful job remembering the order of the books of the Bible. I love learning about one each day and writing it on a slip of cardstock to add to the envelopes. Once a week, the children take them out and we put them in order. On the other days, I just have them recite them. We have made it to Proverbs.
Here is Hannah writing "Job."
In addition to the rainbows I added the foods in the colors of the rainbow: red grape tomatoes, orange carrots, yellow pineapple, green broccoli, blue Jello, and purple yogurt. Then I cut a Noah's Ark shape out of their peanut butter and jelly sandwiches.
We also made boats out of foil and floated them in our kitchen sink. Each child took a turn to see how many pennies it would take to sink their boat.
We also discovered how long Noah's Ark would have been. First we measured our forearms to see how long they were. We discussed that a cubit is the length from the tip of the finger to the bend of the elbow. The children have already heard of the term "non-standard unit of measure," so I explained that a cubit would fit in this category as everyone has a slightly different arm length. We used daddy's arm to measure for Noah's Ark, seeing his was the closest to the 18 inch mark.
I cut a piece of yarn that was 10 cubits long. Then we headed over to the park to measure 300 cubits.
I took a picture from the spot we ended measuring, all the way through to where we started at the entrance to the park.
The children were a bit surprised at how long Noah's Ark would have been, especially when you take into account how tiny the typical ark is pictured as being. If it hadn't been so cold we may have measured the width too.
They are also supposed to be recording what Melk teaches us about God's character.
I also have several reviews upcoming on my blog:
Farfaria app
Cardiff Booster Seat Headrest
Linking up at: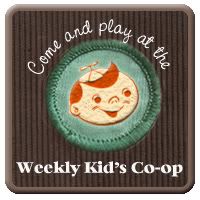 And a couple of new linkies: