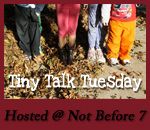 I missed posting last week. Obviously I haven't been spending a lot of time on my blog these last couple of weeks. I feel I am neglecting my poor blog. Last week was just way to hot for me to want to do ANYTHING. So here are the cute little things I was able to write down these last couple of weeks. I really wish I had a photographic memory or something. There were so many other cute things.

The other day, Amelia came into the room from the kitchen holding her knee, she said, "I hurt my knee by eating too fast."
Tabitha came up with a cute project for her and I to do during nap time last Monday. She found different shaped objects to trace to make our houses. Then we glued on real dirt out of the garden and flowers.
I didn't get a picture after this part, but she added bugs (not real ones!) and some Conversation hearts.
Later she said, "Our pictures look great, except for your's because your's doesn't have any bugs coming out of it."
Last week's hot weather really got to us all I guess. The one night, after it cooled down, I told the girls we were going to the park. Amelia said, "It's hot in this house. Jesus in heaven is not this hot."
One day at lunch we were having bananas, but there were only 2 left. Here is the conversation:
Tabitha: Can I peel mine.
Daddy: There are only 2.
Tabitha: Hannah doesn't get one?
Daddy: You two are going to share this one...
Tabitha: And split the other one.
Friday at dinner Tabitha said, "Tomorrow is Saturday, then Sunday. Sunday we go to Penn York Camp" (we were going with church for our service, baptism and picnic). "The baby will come along in your uterus. The pregnant mommy is coming."
One day I decided to put serve dinner on paper towels. One of the girls said, "We're having a paper towel supper, Hannah is having a table supper" (I just put her food on the table as she throws plates still).
Tabitha must have been anticipating something one day. She said, "Can you fast forward the days?"