In addition to the
summer reading programs
we are participating in, we tried to get some U activities done this week. I didn't get any of the reading or worksheet ideas done or our Interlock done. Summer is definitely not going as planned, but I am not worried. We got done, what we got done.
Then on Wednesday we played our Under game. I created an obstacle course for the girls to roll a ball under.
Under the rocking chair:
Under the cushion tunnel:
Under the chair:
Under the Upside down baskets:
Under the kiddie chair:
Under the dining room table and into the box.
I timed the girls. Tabitha took 24 seconds. Amelia took 44 seconds. And Hannah got stuck at the tunnel. We kept rolling the ball back and forth under the cushions.
Two times this week we played our new math game. I called it, "Adding Up the Steps."
I wrote one number 1-16 on half a sheet of paper and placed them on the stairs.
Then I made some cards depicting the number we were to add. +1, +2 and +3 cards. These were made on 1/4 of a sheet of construction paper.
The girls took turns picking one card.
I put the equations on the easel. The both started on 0 of course (the floor) and they had to climb the number of steps shown on the card they picked. Then they told me what number step they were on. I then said and finished the equation.
After they both took a turn, I erased the equations, replacing the first numbers with the steps they were now on.
We continued this way all the way up the steps.
They had to draw the exact number to reach 16 because other wise they would have had to climb higher which they obviously couldn't do.
Amelia scooted down the steps, counting backwards as she went.
These numbers have been on our steps since Wednesday (we played the game twice this week). When Amelia climbs the stairs she has been counting, which we have done since she was born. But now she sees the numbers and is definitely getting the connection. Plus she is starting to get the numbers past 10 correct. I figure we will use this for subtraction as well. They definitely enjoy counting backward on the way down.
Hannah is having fun sneaking up the steps and messing up the numbers, scrunching them, throwing them down. I have had Tabitha fix the numbers at least once. It helped her work on getting the numbers in order.
I am linking to: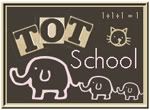 Share It Friday
Linking up to
Also linking to:
No Ordinary Blog Hop
Smart Summer Challenge