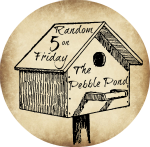 I haven't participated in Random 5 on Friday for quite a while, not since last May to be exact. I really hadn't realized it had been that long. Right now, I am trying to figure out the best way to organize a random 5 post. I had the thought of also making it my week in review post, as I just haven't had time to do a detailed review post each week (for quite a long time). The thought that keeps popping into my head, it to post one random thing that was learned for each day of the week. Well, that is probably what I will do next week, as we had this past week off. For this week, I would just like to share some random updates.
1- We had our 100th day of school on February 4th. Technically, it was our 100th day of using My Father's World 1st grade, which we started back in April of last year, then took the summer off, and started back up in September. I did post some of our fun pictures as my
Wordless Wednesday post
. We had co-op in the morning, and the children each had 20 grapes in their lunch, to add up to 100. Then we came home and had some 100 day fun before going to see Disney on Ice.
2- I have rearranged our days so we are having Bible time before starting our lesson time. We are using the Sound Words for Kids Theology Curriculum from Proverbial Homemaker,
the review
for which went live the other day.
3- Not only are we starting our day with the Lord, we end our day with Bible time as well. We had gotten away from this, but thanks to another new review product, we are starting back up again. We have been reading The Egg-Cellent Easter Adventure as a part of our Egglo review.
4- Thanks to some ideas gleaned from the book, Motivate Your Child by Dr. Scott Turansky and Joanne Miller, RN, BSN (yes, another review item), I am also being more diligent in having Tabitha use her My Student Logbook (that
we reviewed last year
with the TOS Review Crew), and I purchased an additional book for Amelia. I am hoping to get the children to be more responsible in getting their work done without me always being on their case. One of the things I changed, is that we are going to get lessons started by earlier in the morning. If the children have their work done early because they haven't procrastinated, they will have more time for play.
5- I have started on a new health journey thanks to a friend at our homeschool co-op. She was talking to me about the Trim Healthy Mama book and I said I would be interested in looking at her copy. Next thing I know, I am staring at a package from Amazon that contained the book. Shock, shock, shock. I am so very grateful, and hope this will be something I can do.