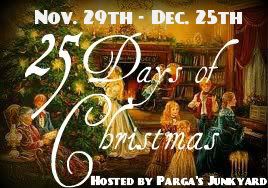 I am thrilled to be able to share so many great posts this month in anticipation of Christmas with the 25 Days of Christmas Blogshare.
Now that Thanksgiving has passed, Christmas seems right around the corner!! Well, today's featured post and giveaway is being held at SnifferWalk. The featured giveaway is a fabulous book about
celebrating life so that we can live it day by day, and truly savor each experience while exploring all of the subtleties of love and happiness. We also have a special featured post to help you find that special Christmas-themed book to read for a brief escape from all the stress. Who doesn't need a special lift for themselves at this crazy busy time of year?
Alyson has put together a terrific list of some of the best Romance, Paranormal and Fantasy books that are Christmas themed.
To check out the whole post and enter today's fun-filled giveaway, go here!
(Just a quick note that there are adult themes on the linked blog)
Enter to win a different prize each day, from Nov. 29th through Dec.24th, with the 25 Days of Christmas Blogshare Giveaways! Each day we will be highlighting a post from one of our blog partners. Look for the link daily that will take you to the blogshare post of the day. By clicking on the day link you will find the rafflecopter form to enter each of the 25 Days of Christmas Giveaways!