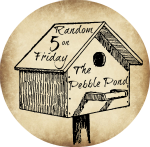 Okay, so it is the end of the year and I completely forgot about posting these Random 5 on Friday posts for most of the year. It was Miranda's post last week stating that she was thinking of stopping the Random 5 that brought it back to my attention. I was so glad to see that she has decided to keep posting even though I haven't been participating.
So, onto my Random 5 (Advent edition)
1. We were supposed to be spending the month of December focusing on our Advent activities and our Why I Give Activity Book. Unfortunately we haven't done near as much as I planned. We have been reading our Bible verses most nights and singing a new Christmas carol on those nights, but we haven't really done any crafts or copy work as planned. I really don't know why I can't get motivated.
2. I had to make my own advent wreath this year as the one I had for years was destroyed by little ones over the last few years and after last year it just wasn't usable anymore. I was quite happy with what I was able to put together with a plain wreath and some candles from the dollar store plus a saucer from my cupboard.
3. We finally got the house decorated the other night. We don't put up very much, just some garland and little knickknacks. Of course our Advent countdown tree is on the wall showing how close we are to Christmas.
4. I am actually quite upset this year. I have had my nativity set for about 17 years and it has lasted pretty well. The first year I had it one of the older children broke a piece off of baby Jesus' manger, but it was on the bottom and can't be seen. It wasn't until we opened it up this year that I remembered last year we had a bit of a catastrophe. Poor Joseph is without a head and the shepherd's base is broken.
Can you see Joseph there on the right? The shepherd is leaning against the ladder in the stable as he won't stand on his own.
4. I have been on the look out for wheat-free cookie recipes so I can still have some treats this Christmas. Hubby will be making Peanut Butter Fudge and I have the
Gluten-free Peanut Butter Cookies
I found in the back of the Advent book we are using, Celebrate Jesus: Light of the World by Amy Blevins, but my mother asked if I could make sugar cookies, her definition of what Christmas cookies should be. I decided if I couldn't find a wheat-free version I would just make regular ones and try not to give into temptation.
5. We haven't told the children yet, but we will be going down to my mom's on December 23rd to celebrate Christmas with her. She lives two hours away. We will leave in the morning, get there midday, and we are going to get to see my sister who lives in NYC and hasn't been up this way since Amelia was a baby. I am so excited, and trying very hard not to spill the beans. Then on the 24th we hope to see hubby's parents and maybe take them to our church's Christmas Eve candlelight service. Praying everything will work out.
So, how has your Advent been?