I was thrilled to have the opportunity to review the Philips Norelco Do-It-Yourself Hair Clippers Pro. We had purchased some hair clippers 6 months ago after hubby's old one died and I have never been comfortable with them. I wanted to see how these new hair clippers compared, but I was also excited to learn my hubby might just be able to do his own hair.
The Hair Clippers come with a:
Large Comb
Small Comb and a
Precision Comb.
In addition there is a precision trimmer (which we use for sideburns and the cleaning up the back of the neck).
The combs attach to the cutting element which is on the swivel head that can rotate 90 degrees left and 90 degrees right for a total of 180 degrees, making it easy to reach the sides and back of the head.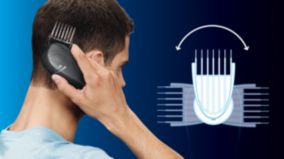 I was very happy with the shape of these hair clippers. This is very comfortable to hold.
The combs can be changed quite easily by pulling one straight up and off and clicking the desired comb into place.
In addition you can turn the hair length setting adjustment ring to get one of 19 different lengths (from 1 mm to 29 mm). I have never seen so many lengths to choose from. You can get the length that is just right for you.
Now, as I mentioned, I have been doing my husbands hair for a few years now. Sometimes it is hard for us to find the time to get it cut though as he works nights. The clippers showed up at just the right time. Hubby had been complaining about how long and thick his hair was getting, so we put the clippers straight to use.
I wanted to let my husband see if he would be able to use these "do-it-yourself" hair clippers. He found the clippers quite comfortable and easy to use.
There were only a few concerns. When we went to swivel the head we ended up changing the length setting and he started cutting without realizing the change, so his hair was a little shorter than he likes it and he had to redo what he had already cut to make it the same length. We know better now how to change the settings and not mess it up. All in all the ability to swivel the head made it so easy for him to cut his own hair...
Except for one spot in the back (to mention concern #2). The problem isn't really the cutters though. I think once he gets used to it he will be able to cut this section of hair. He just couldn't figure out what angle he needed to come at it from.
Actually, he probably would have figured it out, but I wanted a chance to use the clippers so I could compare them to the ones I have been using. As I stated above, these clippers were very comfortable to hold. They cut the hair really well too. The old clippers had a very bulky feel to them and most of the time I had to go over sections of the hair multiple times to get it to cut (and these were name brand hair clippers that I thought were going to be great as they were more expensive than others on the shelf). The old clippers also had a very strong vibration which started to leave my hands feeling numb after cutting his hair. This was not a problem with the Do-It-Yourself Hair Clippers Pro.
The third and final concern was the difficulty we had in exchanging the cutting element with the precision trimmer. The instructions show to push with your thumb, but no matter which way we pushed we couldn't get it to budge. We almost gave up when suddenly it came loose. I am still not sure what I did, but the precision trimmer snapped in nice and easily after the struggle so all was well. I loved that I could use the same unit to trim his sideburns and the back of his neck. The trimmer blade on the old clippers was too wide to be precise so I had to use his shaver's blade. Now we can use the same clippers for the entire hair cutting session.
And because we didn't charge it before use (as the directions say to do, but, we were in a hurry to use them) the clippers did die. The great thing is, you can use the clippers while they are attached to the cord. I also love that it only takes an hour to fully charge them. I am also excited that we do not have to oil them and we can run them under water to clean them.
I think they did a great job!
If you would like to purchase your own Philips Norelco Do-It-Yourself Hair Clippers Pro head on over to
their site
, you can purchase them for $39.99.
Stay tuned for the giveaway! You could win your very own Do-It-Yourself Hair Clippers!