Thanks to the Schoolhouse Review Crew, we recently received a lifetime membership to La La Logic, a brain building Preschool Curriculum that allows children to work on problem solving in fun ways. There are 100 weeks of lessons which consist of 3 components: The online brain challenges, a weekly worksheet, and enrichment exercises. All of these activities can be found in your family account on the La La Logic site, along with the weekly agenda. These components work together to develop a young child's cognitive skills. It is geared toward children from preschool age to early elementary age (3-6 years old). Hannah and Harold fell perfectly into this age range. The older girls have played a few of the online brain challenge games, and I have included them in some of the enrichment activities, but this review was primarily for the younger children.
Let's look at each of the components:
The Brain Challenges
These online interactive games can be played on a PC, Mac, iPad, or Android tablet. Our computer tends to run slowly, yet we have not had any problems with La La Logic. The children will play several different educational games twice a week, with the option to play additional days. The suggested schedule calls for the child to work with assistance on Monday, and without assistance on Wednesday, with Friday being the optional additional day. I have to say, I love that this schedule is quite flexible.
When you first log in to the main account, you will be on the Home page. From here you can choose the child's account or Continuous Brain Challenge Mode. We have been focusing on the children's curriculum pages where we loosely follow the given weekly schedule.
Harold loves to be the one to click on the orange "start" button to begin his challenge time. There are only 5 games scheduled per session, so a child will have some computer time, but a parent does not need to be concerned that their child is spending too much time in front of the screen. That said, what better way to spend time in front of a screen, than by boosting IQ?
There are a wide variety of skills being focused on, and the activities increase in difficulty as the weeks progress. Here is a small sample of the challenges that are to be completed: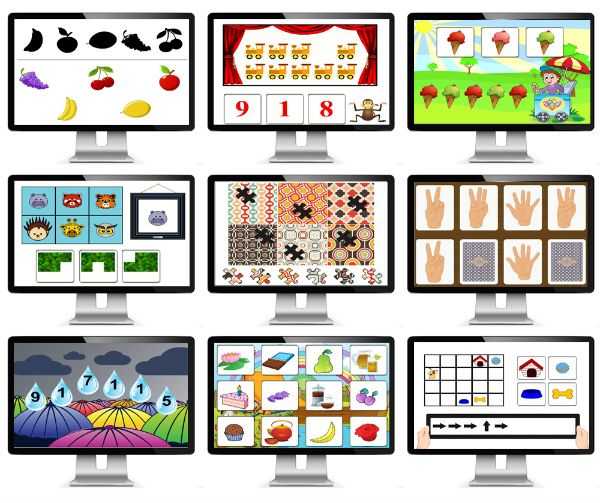 I love that there are slight variations each time a child plays the week's brain challenges. The games will be the same sort of game, but their will be a change in picture, pattern, number, or arrangement, making it a new challenge from the previous time played.
For example:
In the following game, they were to use the arrows to get the puppy to its doghouse. Each time, the path is different.
Harold and Hannah both look forward to their La La Logic time on the computer.
If the child chooses the incorrect answer, a friendly voice encourages them to try again using such phrases as "Give it another try," "No, that's not it," and "Try a different answer." Additionally, each correct answer is rewarded with a cheerful "Good job," "Fantastic," "You did it," "Sensational," or even with the sound of kids cheering. When the child has finished the day's lesson, they will see the following screen:
But La La Logic is much more than just the twice weekly computer time.
Weekly Worksheets
Each week there is a worksheet included with the downloadable lesson, which is accessed from the student's agenda screen. I print out the entire agenda, and then print out an additional worksheet so they can each have their own. The worksheet is scheduled for Wednesday, but I have them work on it at varying times during the week as we have co-op on Wednesday. There may be coloring, or cutting and gluing, or even something as simple as crossing out what doesn't belong. Sometimes, I even create an activity tray for the children.
The first week, the children were to sort the pictures and figure out what the categories were. This was a great opportunity to create a learning tray.
After they had a chance to sort them, we made La La Logic Sorting Books.
Over the last seven weeks, the children have also had the following worksheets: Shadow Matching, One-to-One Corresponding, Coloring shapes according to a key and figuring out more and less, Matching pairs of shoes, Sequencing, and Odd One Out.
To round out the curriculum, La La Logic includes Enrichment Activities.
These are also found in the downloadable agenda. The Enrichment Activities are done on two different days of the week, with the second day building upon what was done on the first day. A few of our favorite activities were using gross motor and fine motor skills to practice counting, scrambling and removing objects, and doing a picture study. The older girls have really enjoyed joining in with these enrichment activities.
Here they had to count each time the ball was passed. The only one who could say the number was the one holding the object, in our case, a ball. They also passed it with their feet.
The second enrichment activity that week, was to have the child count as they poured an object back and forth. We used blue pompoms as a part of our Poppins Book Nook unit on berries.
All of the children had a a blast scrambling these toys and taking one or more away.
With the picture study, I was able to have a great discussion about the picture with the younger children and then they dictated a story to me on the second day. I also had the older girls write their own story on lined paper.
I love the wide variety of activities that are included with La La Logic. These activities are all based on IQ tests, so I know the children are working on those critical thinking skills which are so important. Not only that, but each day's activity is just the right length for these younger children with short attention spans. While the brain challenges are a bit easy for the older girls at the beginning of the program, they still enjoy doing them, and I can have them work in the Continuous Brain Challenges mode, so they can go at a pace that is right for them. It is also important to me that the enrichment activities have allowed the older girls to not only participate, but take a guiding role with their younger siblings.
I highly recommend La La Logic Preschool Curriculum as a fun, yet challenging program for young children. There is time for independent work, plus time for mom (or dad, or older sibling) to join in and guide the child.
This 100 week program is available for a $29.00 one time fee. You will have access to all 100 weeks at once for up to 5 children. As it is a lifetime membership, younger children can be added in at a later date. There is also a 30 day money-back guarantee.
Don't forget to stop by to see what my fellow Crew Mates think about the program: